Learn more about Bobbi Brown Foundation.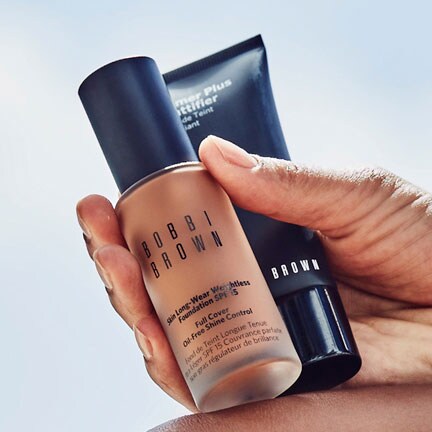 Makeup is more than a way to beautify. It boosts confidence, corrects imperfections, and allows us to express ourselves. From ruby-red lips to flawless, even skin, every piece of makeup can make us feel even more ourselves.

Foundation is an essential step in your makeup routine, covering imperfections and creating a base on which you can build your makeup look. Because everyone's skin is different, it's important to choose the foundation that best suits your skin type

We've crafted a wide range of foundation formulas that target different skin types, such as oily, dry, or sensitive. Dry skin can hugely benefit from a foundation that's hydrating and creamy. A creamy consistency will help give moisture to the skin rather than drying it out. Our Skin Nourishing Glow Foundation is infused with a moisture-reviving marine extract that delivers both moisture and coverage. The formula is richly emollient yet lightweight, which means it won't crease or flake.

Oily skin requires a different approach than dry skin. Foundation for oily skin doesn't need to add moisture because the skin already produces enough oil. For natural-looking coverage, use a powder foundation. Our Skin Weightless Powder Foundation delivers a buffed, polished finish that lasts all day.

To get full coverage, try Skin Long-Wear Weightless Skin Foundation with SPF 15. The formula is comfortable and hydrating, providing layered coverage that never looks cakey. Tried and tested in extreme heat and humidity, this 16-hour vegan friendly formula is waterproof and sweat-and humidity-resistant.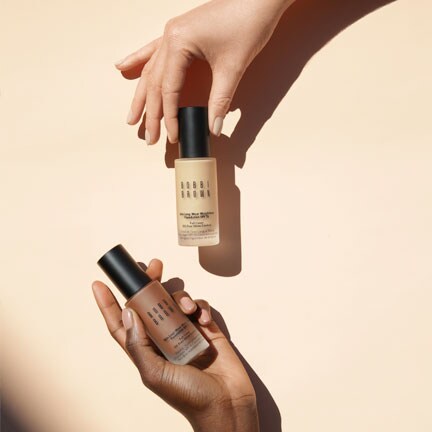 Whether you have dry skin or oily skin, a stick foundation can help you create targeted coverage and even allow you to apply on the go. Our Skin Foundation Stick has a weightless formula that looks like skin, not makeup.

For something lighter choose a tinted moisturiser. The Nude Finish Tinted Moisturizer offers sheer and ultra-light coverage that looks and feels natural. Nourishing moisturisers hydrate the skin to reveal a replenished, radiant complexion.

All Over Glow balm uses a skin-illuminating formula that instantly captures and reflects light to reveal a naturally luminous glow. This balm mimics your skin's natural moisturisers, smoothing away fine or dry lines and leaving skin soft and smooth.

Your skin is beautiful. Enhance it with a foundation that leaves you feeling sleek, smooth, and confident.