Limited Edition
Mini Mask Trio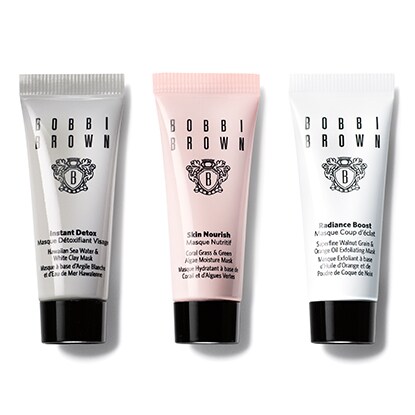 YOUR EVERYDAY ESSENTIALS
ENJOY THREE DELUXE SAMPLES.
AVAILABLE ON ORDERS OVER $150.
USE CODE:
ESSENTIALS
AT CHECKOUT-OUR TREAT.
Learn More
What It Is
Who it's For
Why It's Different
How to Use
Whether you want an instant boost of radiance, a deep cleanse or serious moisture, this mask trio does it all. The perfect solution for all your skin's needs, use masks individually or multi-mask—the targeted formulas in our Radiance Boost, Instant Detox and Skin Nourish instantly reset and noticeably improve how skin looks and feels.
7 ml each
All skin types.
Your skin's needs are constantly changing, depending on the weather, your environment, even your stress level—and your skincare regimen should change, too. With three need-specific formulas, the Mini Mask Trio is the perfect way to treat skin year-round. Use them alone as needed, or in tailored-to-you combinations.
To jump-start a gorgeous glow, apply Radiance Boost on damp skin and leave on for 2-5 minutes. Rise off with warm water while gently massaging skin in circular motions. For skin that's craving a serious cleanse, apply a thin layer of Instant Detox on slightly damp skin and allow to dry for 2-5 minutes. Rinse off with warm water. Give dry skin a drink of ultra-moisturising Skin Nourish—apply liberally and allow to absorb for 2-5 minutes, then tissue off excess.ss.